Free Quote
Contact us today for your Free Quote
Close
We are thrilled to announce that Bywaters and BNP Paribas Real Estate were awarded the PFM Partnership Award for Corporate Social Responsibility last night. It's fantastic to be recognised for the work we have done so far, and are looking forward to continuing to make an impact in the future.
Recognised for Corporate Social Responsibility
Corporate Social Responsibility is of central importance to both Bywaters and BNP PRE. Therefore we are very proud to have had our CSR efforts recognised at the PFM Partnership Awards, gaining recognition for delivering a consistent and coherent programme of events and awareness campaigns, with a focus on single-use plastics and the problem of ocean plastic pollution.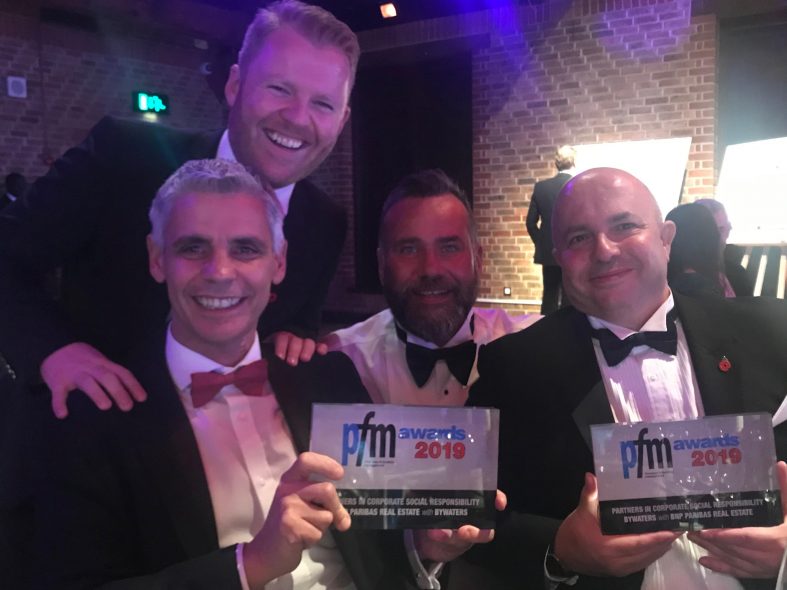 Plastic pollution has been a key focus for Bywaters in recent years, with us having been named as Plastics Recycling Business of the Year at the Awards for Excellence in May of this year, and so it's brilliant to see BNP PRE's efforts being rewarded in their work to reduce the amount of plastic in the world's seas.
But the work that BNP PRE and Bywaters have done goes beyond just this one issue, with many local community initiatives being organised throughout the year – from supporting Alzheimer's research and music therapy charity Nordoff Robins.
A Partnership Going from Strength to Strength
Since being awarded the waste resource management contract with BNP Paribas Real Estate four years ago, Bywaters has worked in partnership with all building managers and facilities teams to enhance not only every site's recycling rates, but also to help support the company's CSR initiatives and make a real difference.
Our Green Gurus – a specialist in-house team of environmental consultants – have worked with every building within the portfolio to make as much of an impact as possible. This includes everything from providing in-depth waste audits, to holding regular waste awareness days and providing bespoke sustainability training to get all staff pulling in the same direction.
Additionally they have arranged multiple tours of Bywaters' materials recovery facility (MRF) in Bow for building and cleaning staff so that teams onsite have a full understanding of what happens to waste after it is collected by our sustainable fleet.
Keeping the UK's Beaches Clean
A core part of Bywaters and BNP PRE's approach to fighting ocean plastics has been the regular beach cleans we organise. BNP PRE have built on their commitment each year by continuously expanding our annual clean up on Brighton beach – with bespoke marketing materials like educational literature, branded tote bags, and special giveaways provided at this year's event (which was our largest ever beach clean) in order to encourage engagement and spread the shared message even further.
Cleaning up the nation's coastlines and waterways offers the opportunity for Bywaters and BNP Paribas Real Estate to educate participants about the effects of improper waste practices on the environment, raise awareness for the wider issue of ocean pollution, and have a demonstrable positive impact on the natural spaces around them.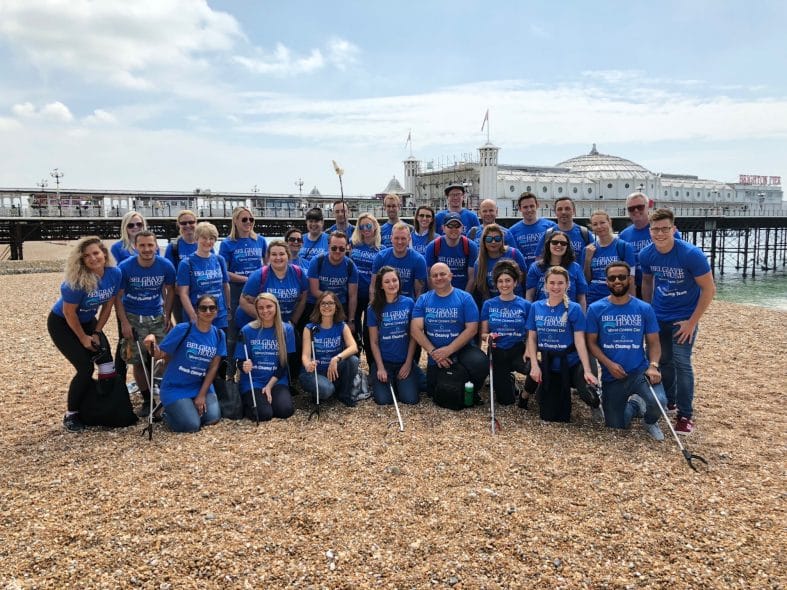 Plastic collected from these beach cleans was then later used to make Plasticus – a 10m whale made from plastic which Bywaters toured around the UK with Sky Ocean Rescue, raising national awareness of this issue from the humble beginnings of collecting plastic waste from UK beaches.
This also extends internationally – with William Ball from BNP PRE organising similar operations in the Philippines, for which Bywaters donated all the equipment necessary, such as litter pickers and high-vis jackets. Bywaters and BNP PRE have consistently gone the extra mile to keep improving our positive impact, which is why the judges of the 2019 PFM Partnership Awards decided we deserved the top prize for CSR.
Giving Back to Local Communities
'Giving back' is an intrinsic part of Corporate Social Responsibility, emphasising corporations' duties to leverage their influence and resources to help communities and individuals in need. BNP Paribas Real Estate and Bywaters have worked to support charities and raise money for good causes throughout our partnership, running a successful donation campaign in aid of Alzheimer's Research UK last year, and working this year to support BNP Paribas Real Estate's chosen charity, Nordoff Robbins.
BNP Paribas Real Estate raised thousands of pounds for Nordoff Robbins, the UK's leading music therapy charity, at their Supplier Forum in late 2018, with further donations in support of Nordoff Robbins' Christmas Carol service. Furthermore, Bywaters are now working to provide further benefit for Nordoff Robbins through our partnership with reuse platform Reyooz.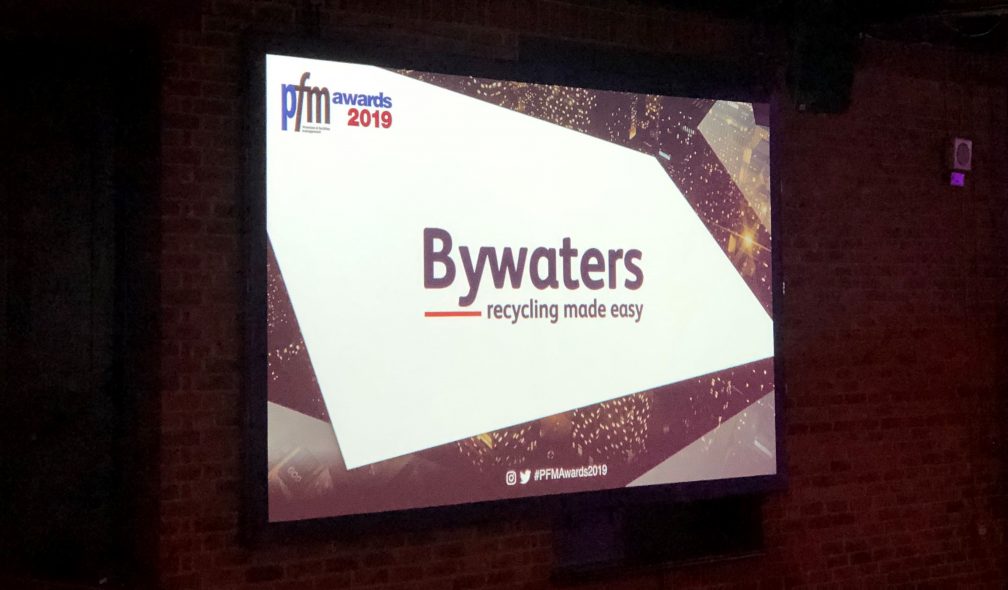 Reyooz is a web-based app that allows buildings and businesses to list reusable items that would otherwise be thrown away, such as furniture or electrical equipment, and donate them to charitable causes and SMEs. BNP Paribas Real Estate have successfully used Reyooz to redistribute items, such as the Devonshire Square site donating 150 computer stands and various items of office equipment.
Bywaters has implemented Reyooz across countless client sites, diverting over half a million pounds worth of furniture from disposal in total.
Just Getting Started
We're delighted that our Corporate Social Responsibility efforts with BNP Paribas Real Estate have achieved this recognition at the 2019 PFM Partnership Awards – and this is just the beginning.
As sustainability is becoming an increasingly important concern for people around the world, it is important we keep our foot on the pedal and keep increasing our efforts to reduce plastic waste, and expand all our existing CSR initiatives. We're looking forward to continuing to work with the fantastic team at BNP PRE to stay at the forefront of driving positive societal change.