Free Quote
Contact us today for your Free Quote
Close
What is BRAD?
An industry-leading waste management service requires a first-class reporting platform, which is why Bywaters designed BRAD. Through this bespoke platform, all our clients can access all their data at the touch of a button.
The Bywaters Reporting Analytics Dashboard allows you to find and download all information about your business' waste management, in a variety of formats to make everything easily digestible. Using BRAD, you can access contracts, compliance documentation, CO2 emissions data, waste transfer notes (WTNs), monthly reports, invoices, complete service history, and more.
BRAD makes generating reports quick and easy, and provides real-time information across all aspects of your waste management service.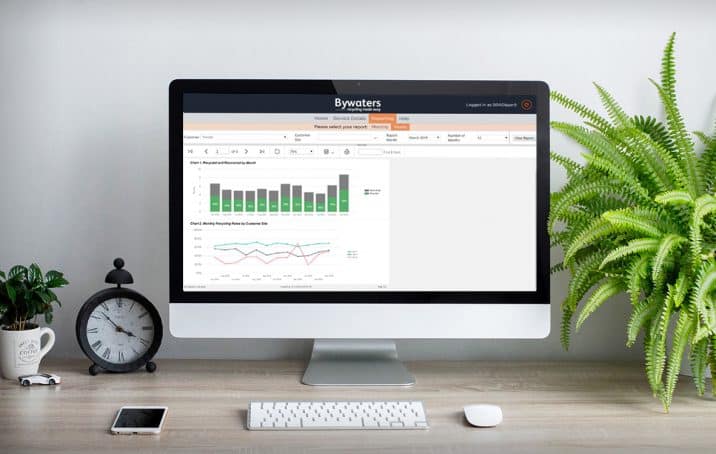 Making Sense of Big Data
BRAD not only makes all your data accessible, but also makes it easily intelligible using a range of colour-coded graphs and clearly displayed KPIs. Through the platform you can find spreadsheets containing all waste management data, and on each monthly report you'll find clearly displayed breakdowns of key figures, such as:
The total amount of weight produced (in tonnes)
The amount that was recycled (in tonnes)
The overall percentage of waste that was recycled
The CO2 savings made through recycling
We designed BRAD using feedback from our clients, who demonstrated a desire to have access to all of their waste management data, displayed in ways that make sense of the numbers. What has resulted from this is one of the most user-friendly reporting tools in the industry.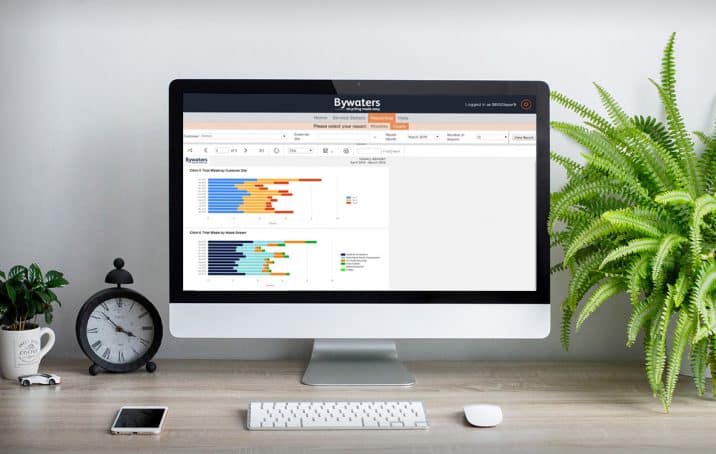 Personally Customisable Reporting
When logged into your BRAD account, you have full control over generating reports, so that you can tailor them to exactly what you need.
Whether you want to compare current recycling performance against the past months or years, or you're a property manager needing to compare the amount of non-recyclable waste produced by different buildings, BRAD can do it for you.
The process couldn't be easier: just use easily navigable drop-down menus to select the data and time period you need, and BRAD will generate a full report for you in seconds.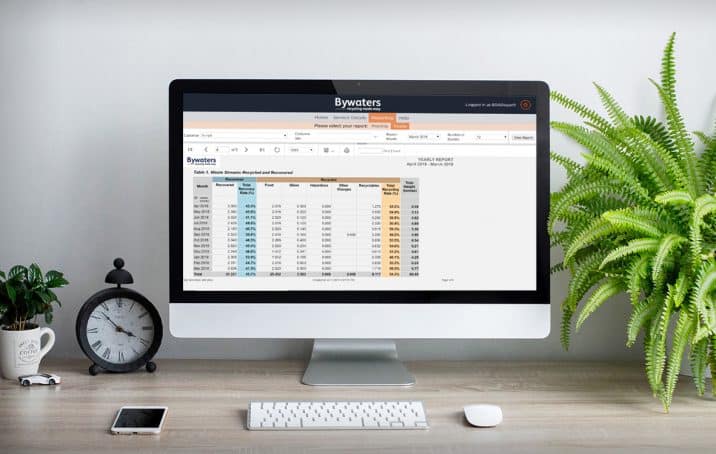 Measuring Environmental Impact
One aspect of BRAD that truly sets it apart is how it demonstrates the tangible benefits of sustainable waste management by tracking the CO2 savings associated with increased recycling rates.
With an increased push for businesses to be more environmentally friendly, BRAD's reporting can show you how the waste management improvements you're making are having a measurable positive impact.
Reports generated through BRAD will detail how many tonnes of CO2 have been saved over a given period, and the percentage reduction in carbon emissions that has been made. These figures help quantify the positive impact being made by your company.
BRAD and You
To learn more about Bywaters' top-class environmental services, and to benefit from all of BRAD's convenient reporting functions, get in touch today.