Free Quote
Contact us today for your Free Quote
Close
Bywaters staff regularly volunteer with our charity partner, FoodCycle, to help prepare free nutritious meals for people in our local area. I was part of the cooking team for FoodCycle Hackney's Christmas meal this past December to get a first-hand look at the fantastic work they do.
What is FoodCycle?
FoodCycle is a community initiative that uses surplus food to create free three course meals for the hungry and the lonely across England. They currently run 41 projects, serving 1,500 guests a week – and over the last 10 years they have turned 425 tonnes of surplus food into more than one million free meals. On top of this, every meal cooked by FoodCycle is vegetarian, ensuring that all their guests have a nutritious, healthy meal.
Bywaters has been working with FoodCycle since the summer of 2019, supporting the work they do by making financial donations and providing opportunities for all staff to volunteer either to help prepare or serve food for guests at various projects throughout London. Since we first heard about the charity we've been blown away by the success of the project and wanted to do all we could to help them keep growing and helping people while reducing food waste.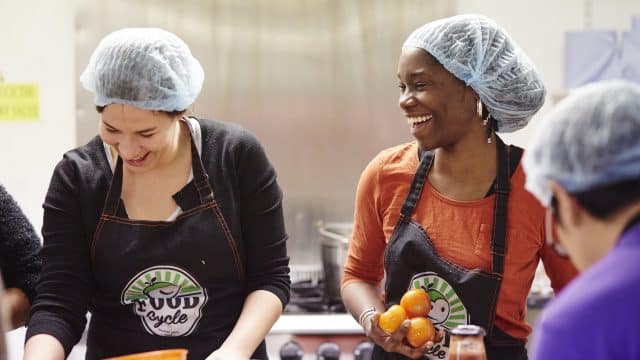 Mary McGrath, Chief Executive of FoodCycle recently spoke at Bywaters' 'Sustainable Solutions' event centred around food waste. She explained to all the attendees how the charity manages to reduce food waste in England at the same time as providing a valuable service for people in need, and how the support from the teams of volunteers enables them to make a real difference to people's lives.
The People They Help
With many people struggling across the country, FoodCycle provides an essential service to many people who may be socially isolated and suffering from loneliness (which affects over 9 million people in the UK and can be as bad for your health as smoking 15 cigarettes a day) or may not have enough money to afford food.
You can find video testimonials from people who have been helped by FoodCycle on their website, and these small quotes from various guests help underline just how important the work done by the charity is:
"I'm homeless and thanks to this place I'm starting to feel like a human, not as a zero."
"I really look forward to it every week. I love eating together at the same table as friends I have made here. We have become like a little family; it is very comforting."
"It really helps my mental health and helps with money so I can keep the heating on a bit longer to keep warm."
For the purposes of writing this blog, FoodCycle also sent me over a number of more detailed case studies from guests and volunteers, which demonstrated how diverse the people who come along for the meals are and how these problems are prevalent in all parts of society.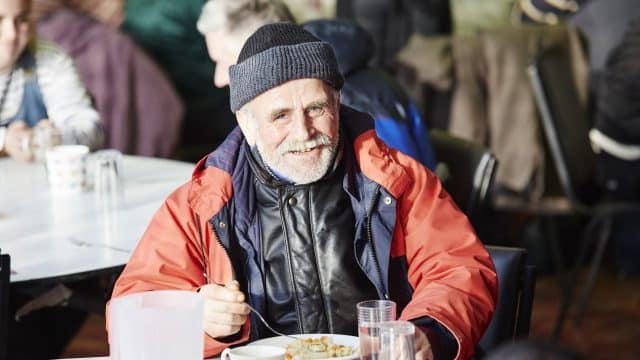 The stories included an international student for whom her local FoodCycle project is the only place she is ever able to eat a meal outside of home, a man with health problems who has had his Universal Credit PIP payments stopped and who says, "If it wasn't for these places, I wouldn't eat in the week," and an older woman who lives alone and often goes days without speaking to another person.
These accounts are often heartbreaking, and demonstrate why the work FoodCycle does is so important: it's a charity that has definitely saved lives.
Among the case studies, it was relieving to read the account from a volunteer in West London who has become a project leader and seen the size of their local FoodCycle almost double – meaning more food, company, and support is available for those who need it the most.
Preserving the Environment while Providing for those in Need
By using surplus food to cook all their meals, FoodCycle are not only supporting thousands of people throughout the country, but also saving tonnes of harmful carbon emissions from entering the atmosphere. When people think about the threat of global warming, they don't often think about food waste, but it is actually one of the biggest environmental problems facing the world.
Each year 10 million tonnes of food is thrown away in the UK, and food waste accounts for 8% of the world's annual emissions of greenhouse gasses – meaning that if food waste was a country, it would be the third most polluting nation on earth.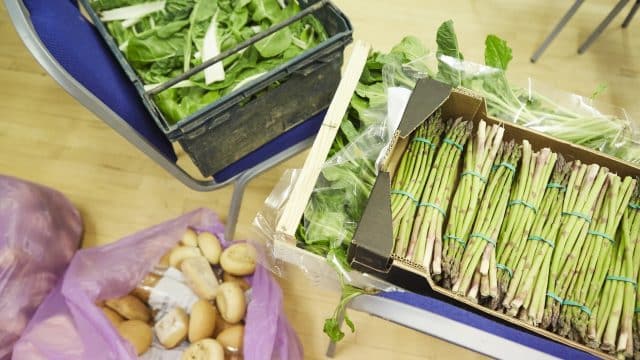 Bywaters has been focusing on the problem of food waste recently, and as part of this I recently sat down with Jamie Crummie, co-founder of innovative food waste app Too Good To Go, to discuss the issue and the way technology can be used to find consumers for surplus food. FoodCycle are another organisation at the forefront of the fight against food waste today, and it was great to have an opportunity to see how they're building sustainable communities using surplus food.
As mentioned above, throughout the past decade FoodCycle have saved 425 tonnes of food from going to waste. Even if all this food were to be sent for food recycling, it would still have an environmental impact as nothing can fully prevent any emissions being produced; by far the most sustainable way to handle surplus food is to ensure it is eaten. Having turned these tonnes of food into over a million meals, FoodCycle have saved tonnes of harmful emissions while filling people's stomachs.
My Experience at FoodCycle
I volunteered as one of the cooking team for FoodCycle Hackney's Christmas meal on the 19th December, and the first thing that struck me was the creativity of the team. Because there is no way to know what food will be donated on that specific day, there's only a short space of time to decide on what to cook for about 40 guests.
The team leaders immediately stepped into action when the van arrived, and had quickly conjured up a menu comprised of a starter of arancini balls, roulade with roast vegetables for the main course, and trifle for dessert. Even though we were all volunteers, the operation went like clockwork (with some very inventive use of the minimal oven space available). The food was all prepared on time before being served by another team of volunteers, as a local musician played some live music for the attendees.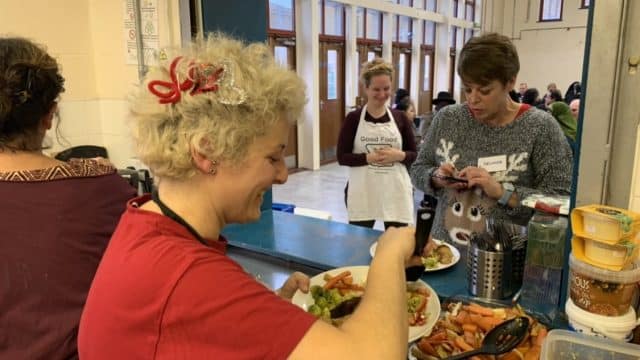 It was great to be part of a team fully committed to making the best meal possible for members of their local community. I'd heard only positive things about FoodCycle from the other Bywaters staff who have volunteered there, but it was fantastic to see the passion and creativity on display from every person there – from my fellow chefs to the front-of-house team who served the food and then sat with the guests to talk to them – delivering the social engagement through good food at the heart of FoodCycle's purpose.
I was knackered by the end of the shift, but the hard work was worth it. The guests all enjoyed the meal and we were able to cater easily to any dietary restrictions, with almost everything we made being vegan (which was another positive note on the environmental front, especially as I'm writing this during Veganuary). I'll definitely be going again, and I would encourage anyone reading this to volunteer with their local project if they have the time.
How Can I Get Involved or Attend my Local Project?
Volunteering with FoodCycle is very easy. All you have to do is sign up on their volunteering page by clicking 'Get Involved' at the top of the page, fill in some details, and then take a quick quiz on kitchen hygiene and safety (with the help of some short educational videos). Then you're able to book on as a volunteer either collecting, cooking, or serving food at any of their projects.
It's that simple. By volunteering you'll not only be helping a great cause, but also get to experience a great social environment and very likely learn something new if you're on the cooking team – I had certainly never attempted to make a roulade before, and by the end I would say my efforts could be described as passable.
If you want to attend your local FoodCycle as a guest and enjoy a great healthy free meal, then you can easily find a project on their eat with us page, on which you'll find FoodCycle communities everywhere from Southampton to Newcastle full of great food and conversation.