Free Quote
Contact us today for your Free Quote
Close
On the 1st November, Bywaters held our second 'Sustainable Solutions' event of the year. Following up from our first event which focused on sustainability as a whole, this time we brought people together to talk about the problem of food waste.
We were delighted to be joined by three fantastic speakers: Jamie Crummie from Too Good To Go, Mary McGrath representing FoodCycle, and Sophie André of Elysia Catering – who also supplied all the food for the event.
Are We Doing Enough?
'Sustainable Solutions: Food Waste' was opened by co-hosts Luke Bowerman and Edward van Reenen – Bywaters' marketing manager and head of sustainability respectively. The two put emphasis on the need to improve on what we are already doing, not only increasing our food recycling efforts but diverting more energy to reducing and reusing food waste.
The statistics related to food waste make for stark reading and demonstrate the need for effective action to be taken:
8% of global greenhouse gas emissions come from food waste
Every year 10 million tonnes of food waste is thrown away in the UK
If food waste was a country, it would be number 3 in the world's most polluting nations
To help us learn about how we can start to turn the tide on food waste and the carbon emissions associated with it, we were fortunate to be joined by three speakers from businesses and charities doing great work in finding innovative solutions to the societal problem of surplus food.
Informative Talks from Food Waste Innovators
Representatives from three different organisations that have dedicated themselves to finding uses for surplus food were in attendance to give talks and answer questions from our eager audience of Bywaters clients and staff.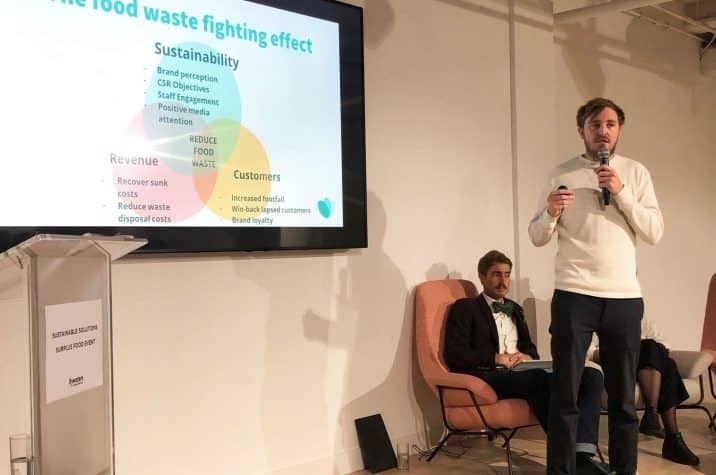 Jamie Crummie, Co-Founder of Too Good To Go
Jamie co-founded the food waste app Too Good To Go in June 2016, and the platform is now the world's largest B2C marketplace for surplus food. The company puts a focus on reducing carbon emissions by rescuing food waste, with 59,777 tonnes of CO2 having already been saved through their operations.
Too Good To Go offers a place where businesses can sell surplus food at a cut price, allowing consumers to pick up a bargain while at the same time saving food from being thrown away. The platform is now expanding internationally, and Too Good To Go now has 2,272 partner stores and over 1.5 million users across the UK.
Jamie spoke of Too Good To Go's vision of a world with no waste, and his mission to change the way people think about uneaten food: getting people to think in terms of 'food surplus' that can be used for other purposes, rather than as 'food waste' that should just go in the bin. With 70% of Brits being unaware of the link between disposing of food and climate change, changing the way we think feels more urgent than ever.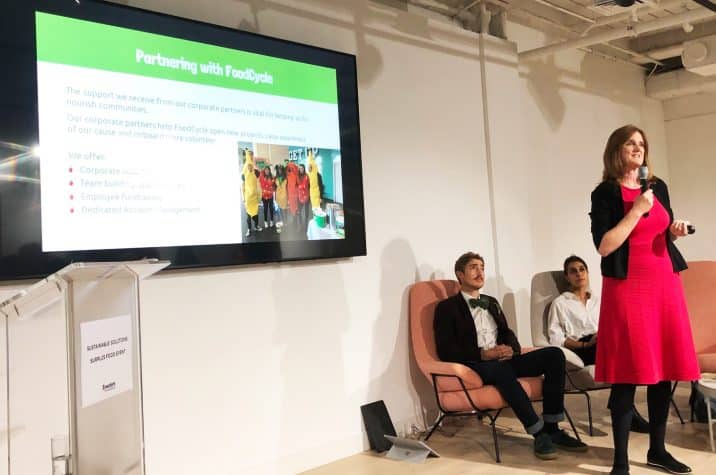 Mary McGrath, Chief Executive of FoodCycle
Mary McGrath is the founder and Chief Executive of FoodCycle, a charity that uses surplus food to cook free meals for the hungry and the lonely. FoodCycle was founded on the belief that food waste and poverty should not coexist and is committed to diverting would-be food waste to make a positive difference.
FoodCycle now runs 40 projects nationwide, serving over 70,000 people free three course meals every year. Bywaters are proud charity partners of FoodCycle, with many of our staff volunteering their time to help create fantastic meals for vulnerable people in society.
Mary's talk focused on the power to create communities through making meals from surplus food. Her work with FoodCycle demonstrates that saving food waste not only reduces emissions, but can also be used to improve society and contribute to tackling the growing problem of loneliness and food poverty in the UK.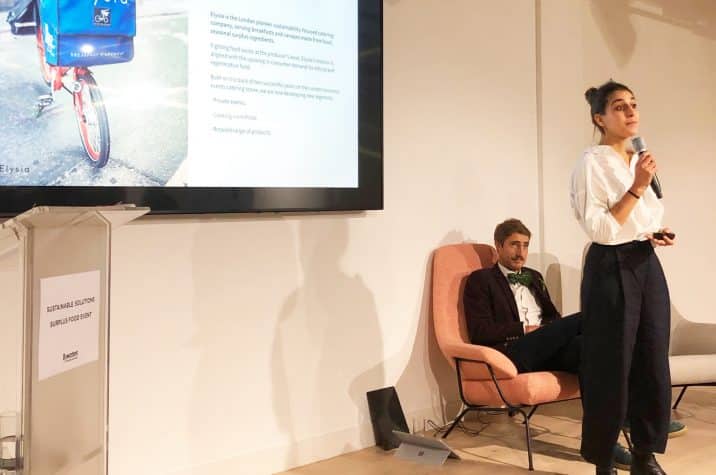 Sophie André, Founder of Elysia Catering
Our final speaker was Sophie André, founder of Elysia Catering – a company that offers sustainable catering to UK businesses by cooking with surplus food and then carrying out deliveries either on foot or by bicycle.
Since being founded in 2016, Elysia Catering has served food to over 500 events, feeding over 25,000 people delicious, sustainable food. As a company, Elysia focuses on food supply chains in order to reduce carbon emissions as much as possible. A special emphasis is put on the impact of importing food from far afield, which is why Elysia source all their food from local artisans.
In her talk, Sophie talked of how she wanted to see the creation of a world in which people view food waste as anti-social behaviour, and stressed the importance of considering every aspect of the food you're eating – where it is supplied from, how it was produced, and the methods by which it is packaged and delivered.
Food for Thought
Bywaters would like to thank all of our fantastic speakers for sharing their innovative ideas with us, and also One to Wine for providing the drinks for the networking reception that followed the talks.
Food waste is an issue of pivotal importance in the ongoing dialogue about sustainability and how to reduce the amount of waste we produce as a society – and finding ways to reuse surplus food as well as continuing to find new recycling solutions is a crucial part of this effort.
Edward van Reenen, Bywaters' head of sustainability and co-host of the event had this to say:
"Food waste is one of the largest problems faced by our industry, both in terms of its environmental impact and the need to divert edible food to the people in society who need it the most.
"It was fantastic to bring people together to discuss what we can do to handle food waste more sustainably, and I want to say a heart-felt thanks to Jamie, Mary, and Sophie for their brilliant talks and the important work being done by their organisations."