Free Quote
Contact us today for your Free Quote
Close
Reducing our plastic consumption is key to becoming a more sustainable society, and big companies like McDonalds need to lead the way.
Making Happy Meals Happier
Last week, McDonalds announced that they will no longer be including hard plastic toys with their Happy Meals as part of a drive to reduce plastic waste and increase sustainability. From 2021, every Happy Meal in the UK and Ireland will have a soft toy or paper-based toy/book, giving consumers the option to opt out of plastic gifts completely.
This move follows a number of other recent changes across the fast-food industry aimed at reducing plastic waste, as the issue grows more prominent in the public consciousness.
Plastic Toys and Recycling: the Context
To understand why this is such a big deal, it's important to get some perspective on the amount of plastic waste that McDonalds currently produces, and the recyclability of these items. Last year, Bywaters were part of a BBC documentary series – War on Plastic with Hugh and Anita – which looked at the impact of plastic on the environment. As part of this, we extracted all the contaminant plastic and toy waste from our Materials Recovery Facility's (MRF) belt line over just twenty-four hours, so that Anita Rani and Simon Ellin, the CEO of the Recycling Association, could have a look through what we found.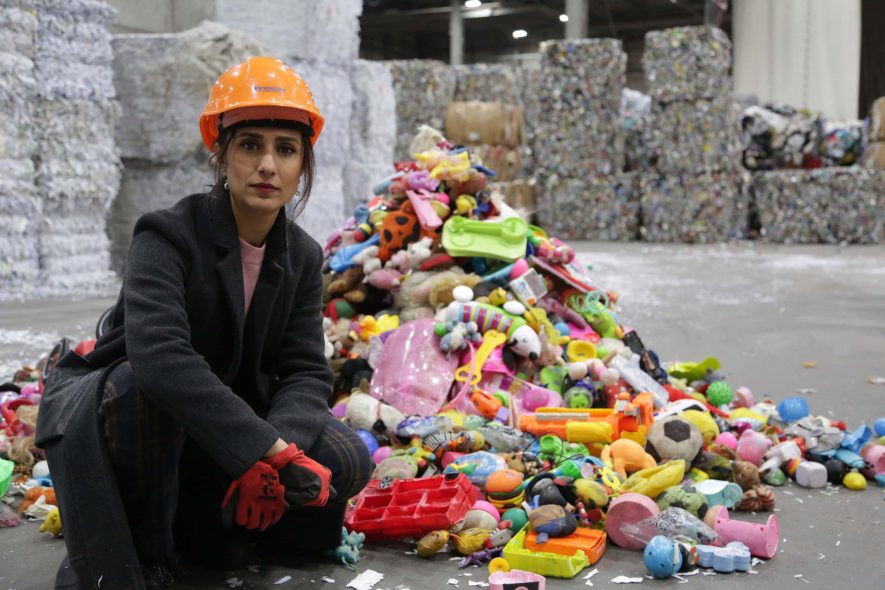 Many of the toys that we recovered from our belt line were from fast food chains – the majority from McDonalds, with some from other outlets like Burger King – and, startlingly, some were still in their original packaging, remaining unopened as they were thrown away.
The fact of the matter is that many of these toys are not recyclable, and need to be sent to an Energy from Waste facility to be incinerated instead of made into new products. While in theory most of these toys are made from recyclable components and materials, the combinations of different plastic polymers bound together in one product makes it very difficult to separate these components. As different kinds of plastic need to be reprocessed in different ways, the construction of these toys ends up making it almost impossible to properly recycle them.
Less Recyclable Than the Sum of its Parts
Hybrid materials pose a difficult problem for recycling. The issues that plague Happy Meal toys are faced by many other products, such as disposable coffee cups and some kinds of paper straw, which tend to line their paper with plastic layers to make them more waterproof. Separating these layers from each other so we can recycle both parts is a difficult operation that requires specialist solutions, and is beyond the capabilities of most standard recycling facilities.
Replacing plastic is not always easy, however. McDonalds' paper straws – which don't use any plastic layers and are made only of paper – still came under fire last year for not being recyclable. This was due to the thickness and construction of the paper making it unsuitable for normal paper processing, whereas the old plastic straws were able to be recycled through the usual methods.
Moving in the Right Direction
This is undeniably a positive move from McDonalds, and one that we hope the rest of the fast food and toy industries pick up on. Happy Meal toys make McDonalds the largest toy manufacturer in the world as well as one of the most popular fast food chains, and switching away from hard plastic for the construction of these toys will remove over 3,000 tonnes of this material from the business.
Furthermore, starting from now – March 2020 – McDonalds is also trialling paper-based packaging for some Happy Meal toys, replacing the single-use plastic wrapping that covers them all at present. This is estimated to save a further 200 tonnes of single-use plastic per year. By 2025 they aim to source all product packing from renewable or recycled sources, representing an even bigger clampdown on the production of wasteful single-use plastics.
A Plastic-Free Future
Every year, Bywaters separates and processes over six thousand tonnes of plastic waste. The technology in our facility is able to identify and segregate plastics into their different types with over 96% accuracy, producing high-quality material for recycling. In 2019 we were even awarded Plastics Recycler of the Year at the Awards for Excellence in Recycling and Waste Management, for our work in segregating plastic and raising awareness about plastic pollution. Even still, there are some plastic products that we are not able to send to be recycled, and Happy Meal toys are often among these.
We are therefore very pleased that McDonalds has taken measures to reduce their plastic production, and we urge other businesses and outlets to examine their own operations and seek to do the same. We don't know exactly what a sustainable future looks like yet, but we do know that if we want to get there, we need to use less plastic.