Free Quote
Contact us today for your Free Quote
Close
In a rapidly urbanising world, Bywaters client Broadgate has partnered with South African NGO, Greenpop, to preserve ecosystems and restore forests across Sub-Saharan Africa.
Planting a Tree for Every Employee
Broadgate, one of Bywaters' largest clients in the City of London, is doing something a little different this year to mark the festive period: launching an initiative to help the environment by planting a tree for each of the 511 employees they have onsite. The idea has proved so popular that they have already smashed this target and raised enough to plant 602 trees, with their donation page still active until Christmas.
Having won the prestigious Chairman's Cup at last year's Clean City Awards, Broadgate has a passionate commitment to sustainability and has teamed up with the environmental organisation, Greenpop to do their bit to aid forest restoration efforts in Africa this Christmas. This tree planting initiative will also ensure that every tree used in constructing Broadgate's onsite Christmas Forest is compensated for, reducing the environmental impact of the holidays.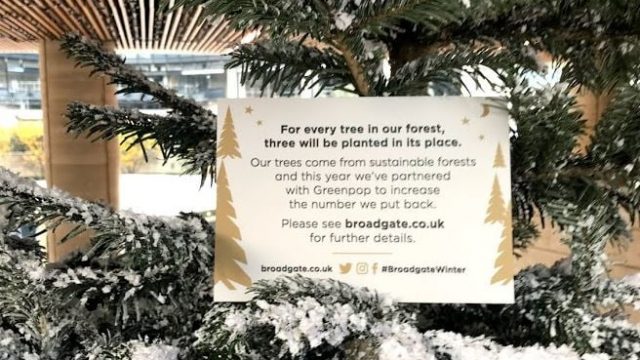 At a time when urbanisation is having a larger and larger impact on natural environments around the world, forest restoration efforts such as this partnership between Broadgate and Greenpop are pivotal to ensure the survival of green spaces and wildlife. By 2030 the amount of space taken up by urban environments will be 700% higher than it was in 2000, so it is pivotal that we act now.
Greenpop: Repairing Forests and Cleaning Air
Greenpop was founded in 2010 by friends Misha, Lauren, and Jeremy, growing out of an initial project to plant 1000 trees in Cape Town in the space of 1 month. Their experience delivering this project made them aware of how essential it was becoming to preserve and expand natural spaces in large cities, and so they immediately set about implementing further tree-planting initiatives.
Since 2010, Greenpop has planted over 115,000 trees and inspired over 132,000 active citizens across South Africa, Zambia, Malawi, and Tanzania. Their aim is to plant 500,000 trees by 2025, and Broadgate is proud to be working with them to help achieve this goal.
Every tree planted by Greenpop helps preserve precious ecosystems and fight carbon pollution, and the charity works with people on the ground when delivering each of its reforestation and urban greening projects. This helps ensure that local people are equipped with the knowledge of how to look after and expand their green spaces after Greenpop has moved on – making a real lasting impact and creating sustainable communities.
Bywaters' Previous Work With Greenpop
Bywaters ourselves are proud charity partners of Greenpop, donating money every year to help support their fantastic work preserving Africa's green spaces. We've helped Greenpop plant thousands of trees to date, and our head of sustainability, Edward van Reenen, has even travelled out to assist in one of their projects.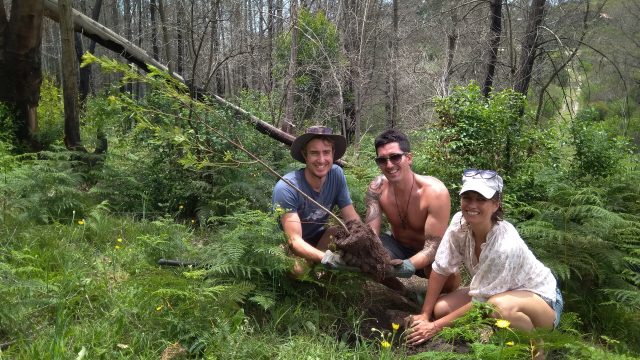 Last February, while travelling to see his family in South Africa, Ed took part in an effort led by Greenpop to plant trees in an area that had suffered badly from forest fires. As a South African himself Ed felt a close connection to these reforestation efforts, and he wrote about his experience for Bywaters' blog in order to spread the word of the great work done by Greenpop year-round.
It's fantastic to see Broadgate choosing to make sustainability one of its focuses over the Christmas period. Protecting our environment is more important than ever, and through working with Greenpop we can support communities at the same time as fighting deforestation.
If you're interested in supporting Greenpop and helping preserve green spaces yourself, then you can find their donation page here.