Free Quote
Contact us today for your Free Quote
Close
Working with the London School of Economics (LSE), one of the world's leading universities, to maintain high recycling rates and educate staff and students on the circular economy.
LSE has been ranked second in the world – and top in Europe – in social science and management subjects for the seventh consecutive year in the QS World University Rankings. As a leader in the higher education sector, LSE aims to maximise its impact in shaping a sustainable world.
The Tasks
In August 2019, LSE partnered with Bywaters to provide waste management services in a majority of LSE's facilities, education on waste reduction and circular economy principles for staff and students.
To deliver on LSE's ambitious goals, Bywaters was tasked with increasing recycling rates whilst reducing the overall waste production. A key emphasis was placed on the recycling of coffee cups and increased use of reusable cups.
More recently, Bywaters has provided a proactive approach in checking in and implementing changes to support LSE's waste management needs during the national lockdowns.
Our Solution
Bywaters conducted a detailed investigation of LSE facilities, gaining comprehensive data on current waste management practices to understand the waste and recycling behaviour of over 12,000 attendees. 
Bywaters' 'Green Gurus' completed extensive audits to provide a resilient waste strategy, increasing waste segregation and recycling rates. This included analysis of all waste streams identifying improvements such as clearer signage internally and in refuse areas, introducing more waste streams and training sessions with housekeeping and catering staff to ensure awareness of waste management practices.
Bywaters believe that the first step to increasing recycling rates is education. To help educate students on sustainability, Bywaters hosted recycling sorting competitions with the opportunity for students to win prizes. 'Green Gurus' also hosted Waste Awareness Day at LSE's 2019 'Green Week' to educate the public on sustainability and the life of waste using innovative VR technology. The event allowed students to learn more about environmental issues, celebrate and take part in the environmental work being done on campus, and join forces with other students to help protect our planet's future.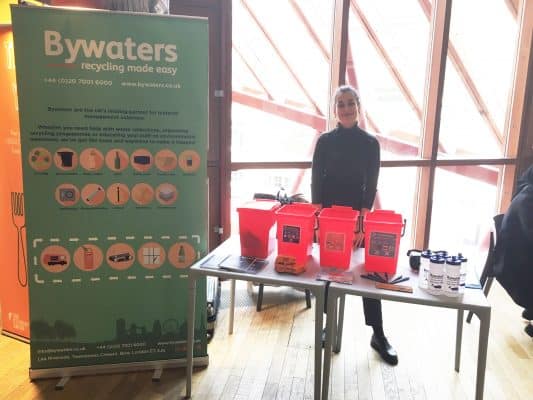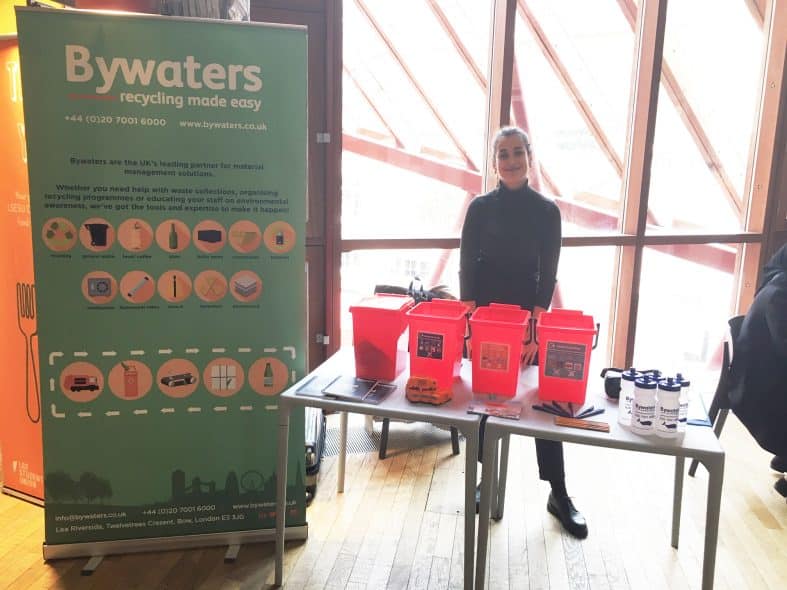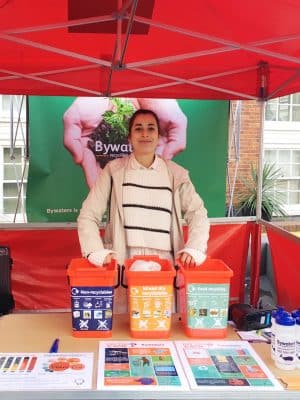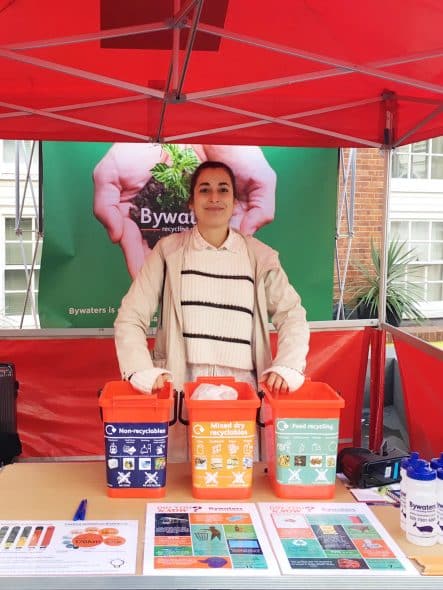 To decrease overall waste, Bywaters executed an innovative solution in partnership with 'The Cup Fund', supported and funded by the environmental charity Hubbub. State-of-the-art reverse vending machines and bespoke coffee cup-shaped recycling bins were installed, encouraging students and staff to recycle used coffee cups. As an extra incentive, attendees can get discounts on hot drinks when reusing or recycling cups at LSE facilities.
'As part of our 'Plastic Free LSE' campaign, we promote reusable coffee cups on campus. The introduction of the Cup Fund initiative on the LSE campus provides students and staff a way to recycle single-use cups as a complement to this. Working together with Bywaters and the Cup Fund enabled us to install eye-catching cup bins and a reverse vending machine in our Student Union, as well as engaging visuals and communications.' – Elena Rivilla Lutterkort, Sustainability Projects Officer, LSE 
The initial Covid-19 lockdown that began in March 2020 led to many significant changes to LSE's campus occupancy and waste generation. Bywaters rapidly responded to LSE's 'new normal' waste management requirements by implementing changes to schedules for waste collection from one day to another with increased hygiene and health measures.
Bywaters proactive approach checking in and implementing changes to schedules seamlessly from one day to another, ensuring normal service, carrying out a change in providers.
"Bywaters has proven itself to be a flexible partner able to quickly adapt to our changing needs. They seamlessly incorporated requests for different closing and reopening of sites in response to the various lockdown or tier changes, into our schedule, sometimes at very short notice. Their adaptability and professionalism were much appreciated during these extraordinary circumstances." – Elena Rivilla Lutterkort, Sustainability Projects Officer, LSE".
The Outcome
The 'Cup Fund' infrastructure established by Bywaters and Hubbub has successfully removed cups and accompanying liquids which were often being mixed into dry recycling. This has increased the quality of the recycling and prevented materials being diverted to incineration. The infrastructure has been set up for future collections. 
Bywaters has helped LSE maintain a high recycling rate before the first lockdown and has provided continuous support during the global pandemic.